Download our Free Printable Planner Templates
The Daily Priority Pad
The Daily Priority Pad was designed under the assumption that no matter how high tech you are you still write things down in the "real" world. Whether you are on the telephone, in a meeting, or browsing through email we still tend to write things down on paper. The problem is because we have changed the way we deal with, and receive information a lot of us are relying heavily on electronic devices for our calendars, to-do lists, and notes etc. The problem with this is that many times these encompass several applications and our information is scattered throughout our devices. The Daily Priority Pad is not designed to replace your electronic device but to enhance it. It keeps all your information in one place where it can be referred to quickly. For example you receive an email outlining the items to be discussed at today's meeting. Simply jot them into the Things Happening section and you wont be fumbling through your phone later trying to find them. This helps you to stay on target and focus on the things that need to get done. Download it for free below.
---
The Taylor Planner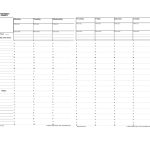 This is an 8.5″ x 11″ PDF weekly planner template. The planner template starts on Monday and runs from 7am to 10pm. All you have to add are the dates and the week numbers (optional).
Simply download the file and print off as many weeks as you need. The template is exactly the same as our flagship Taylor Day Planner.