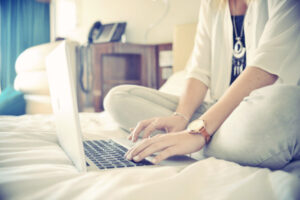 In past blogs we have covered productivity boosters – everything from an organized office and reduced distractions to color schemes and office greenery. But there are productivity killers as well, and one of them is using your bed instead of your well-organized office desk to get work done.
An article in the November 17, 2012 Toronto Star reported on a survey by Infosecurity Europe in London that found that 70% of the workers surveyed spent at least a half hour a day working in bed. An Angus Reid/Vision poll reported in the January 26, 2013 issue of the Toronto Star found that one third of wired Canadians use Internet-ready digital devices before getting out of bed in the morning.
Another survey by Good Technology revealed that half of the office workers polled were answering emails while in bed. The trend is encouraged by suppliers who are offering everything from pyramid pillows to laptop trays designed specifically for bed workers. This practice is proving to be neither efficient nor healthy.
The authors of the book, Neuroscience for leadership, published in 2016, even claim that we should not be sleeping with our smart phones or other handheld devices next to us due to the effects of Wi-Fi and 3G or 4G signals on our brain waves.
A study of over 200 students at the University of Rhode Island found they were losing
an average of 45 minutes of sleep each week because of their cell phones. (Source: Toronto Globe & Mail, November 22, 2011). We should be getting from 6 to 8 hours of sleep each night, although this does vary from person to person. Most people think they need less than 7 hours sleep a night; but according to the American Academy of Sleep Medicine, only 1 to 3 percent of the population actually needs less than 7 hours of sleep a night. The rest are sleep deprived.
Research reinforces the belief that insufficient sleep can precipitate stress disorders and other ailments. A study published in the National Academy of Sciences, reports that even an hour or two less sleep a night can negatively impact more than 700 genes required for repairing cell tissue.
Brain science research conducted as recently as 2012 studied how the brain cleans itself of toxic waste byproducts while we sleep. Failing to get enough sleep may prevent the brain from being able to remove these it neurotoxins which could have an influence on disorders such as Alzheimer's and Parkinson's.
A bed is for sleeping, a kitchen table is for eating, and an office is for working. Confuse the three and both your personal productivity and your health will probably suffer.