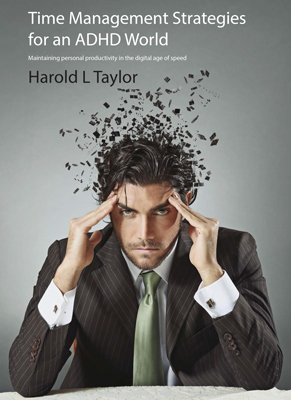 I define holistic time management as "applying the strategies necessary in order to lead a happier, healthier, longer, more productive and fulfilling life." It encompasses both external and internal time management, as well as health, stress, lifestyle and environmental issues that affect the body, mind and spirit.
Just as holistic medicine treats the whole person, so holistic time management goes beyond the quest for efficiency and looks at all aspects of a person's life that influences both personal productivity and health and well-being.
The major topics covered in my workshop on holistic time management fall neatly into an acronym, which spells out the word HOLISTIC.
Health. Although time has been touted as your greatest asset, it is really your health that is your greatest asset. And too often, health is being put at risk in order to save time. Health management is the most important component of holistic time management.
Organization. You can still be successful in spite of being disorganized; but it takes greater effort and uses more of the precious commodity called time.
Lifestyle. Next to health, longevity is your greatest ally in managing your time. Living a few extra years in good health beats efficiency hands-down. You not only get more accomplished, you are around longer to enjoy everything that life has to offer.
Internal body time. Overlooked in most traditional time management workshops, working in sync with your biological clock makes life easier and allows you to accomplish more things with less effort. It also recognizes the brain's role in your concept of time – if you don't remember something, for you, it didn't exist.
Spirituality. It takes mind, body, and spirit, working in unison, to produce a long, healthy, happy, productive life. Holistic time management involves the development of all three.
Time use. You can't ignore traditional ways of managing time efficiently and effectively. Setting goals, planning, scheduling, prioritizing, and focus remain integral parts of holistic time management.
Interpersonal relationships. We do not work or live in isolation. How we interact with others – communicating, networking, delegating, socializing and collaborating – all impact our success in managing our time.
Cognitive skills. As mundane tasks are outsourced, creativity becomes the gold rush of the future. With the advance of technology, effective time management is becoming more mental than physical. We must understand how our brain works, and how we can take advantage of its untapped power to enhance our time and life management skills.
These eight areas will be discussed in more detail at our holistic time management teleseminars. The next one is scheduled for Thursday, November 20, 2014 from 8 pm to 9 pm Eastern time. You can learn more about the teleclass or register here