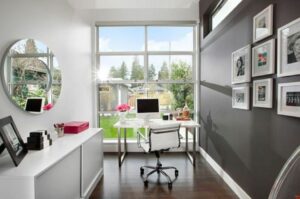 Your environment definitely affects your actions, and in turn, your productivity. This holds true in situations other than work. For example, if you use a larger spoon or a larger plate, you will eat more, hospital patients with a window view need less medication and heal faster, and children who live closer to a fast food outlet are usually more obese.
Consider the impact of nature, whether in the form of green space, gardens or parks, on the health and well-being of individuals. According to the June, 2016 issue of Scientific American Mind, "exposure to natural settings has been linked with a vast array of human benefits, from reduced rates of depression to increased immune functioning."
Recent studies have found that urban green spaces improve cognitive development in children, and those close to park land had better memory development, attentiveness and creativity.
As for productivity in an office environment, potted plants, white noise, music, natural lighting, air circulation, physical organization, windows facing the outside world, the ability to feed off the energy of others, and even a cheerful office decor with scenic pictures on the walls can increase productivity as well as improve mood and personal well-being.
Take plants for example. Based on recent research, it might appear as though your ideal office environment would be a forest with plenty of vegetation surrounding your desk and a trout stream gurgling its way past you. Unfortunately that discounts the blackflies, mosquitoes, gusty winds, darkened sky, and the noise of trains, tractors and thunderstorms in the distance.
Convert your house plants to office plants.
But in choosing our office and decor, we should not overlook the possibility of merging more with nature. The more we gravitate toward the cities and hole up in our offices, the more we withdraw from nature and its largely unrecognized or unappreciated benefits. Studies have shown that the presence of potted plants, for example, improves productivity, creativity, performance and learning ability. In the case of schools, the presence of plants improved scores in mathematics spelling and science between 10% and 14%.
Researchers have also found that plants act as vacuum cleaners removing pollution from the air. Exposure to indoor and outdoor pollutants in both home and offices has been linked to anxiety, depression, irritability, fatigue and short and long-term cognitive decline among other afflictions.
One study involved new computers, which had been shown to give off chemicals into the air. When a batch of new computers were hidden behind a divider, cognitive testing showed it reduced performance and increased errors by those workers closest to the hidden computers.
Plants not only give off oxygen, they are able to absorb environmental chemicals and transport them to the soil, rendering them less harmful. NASA used plants to keep their astronauts healthy while working in enclosed places constructed of synthetic materials. Potted plants have reduced indoor pollutants by at least 75%.
A few years ago I moved my home condo office from a windowless room that used to be a dining room to the solarium where I am surrounded by two walls of glass and access to the balcony. I bought plants for the balcony, complete with window boxes. I have a table and chairs there where I do a lot of my writing and have a view of treetops from my ninth floor condo.
It is not my highest performance area. That's a local coffee shop, which I referred to in my blog a couple of weeks ago – "Are you going to work or working on the go?" It's important to add a little variety to your workplace. It gets you moving, which in another key to productivity in the office. I will discuss this in my next blog article.
Next blog article: Motion sickness beats death by sitting.